Matt was the  2015 WMRC Local Music Awards winner for:  Best Solo Acoustic Act & Best Male Vocal. The following year (2016) he won the event's highest honor, "The Headliner Award" , previously only awarded to full bands, Matt was the first to win the award as a solo artist. he also received "Favorite Acoustic Act" the same year. In 2017, Matt was awarded "Best Male Vocal" for the 2nd time. That fall he started recording songs for his debut solo album "Garden Of Hedon" , released on 9/11/20. The first single "Welcome Song" was given the honor of being put into curation by ReverbNation.

Matt currently performs locally and regionally doing about 150-170  gigs a year playing guitar and singing.  Matt has several different configurations in which he will perform live. In addition to his solo work he does many different duos & trios, as well as full band performances. Garden Of Hedon is Matt's newest endeavor. Aptly named after the title of Matt's recent solo release of the same name, Garden Of Hedon also includes members Bill Donovan (bass), Steve Serra (guitar), Johnny Keys (keys) , Tim Corrigan (guitar) and Tim Provost (drums). As Matt puts it, "the songs from the record sort of provided a springboard, or a starting point for this new band giving us some material to start off with and providing a direction for the band both sonically and visually."  Matt has been known to put together bands for special events and one off performances as well, and on ocassion will pick up various freelance & fill in gigs playing various instruments. You may find him playing Guitar, Drums, Bass, or singing . 
So how did it all start? Well Matt was introduced to the music of the Beatles, Rolling Stones, Alice Cooper, Aerosmith, and many others at a very young age. By the time he was about 10 years old he knew that making music professionally was the life for him.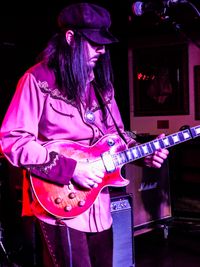 Starting in the late 80's Matt started playing out professionally with bands. He's been in local, regional and nationally touring bands playing revered venues on both coasts and all points in-between.
Some of the great venues Matt has played include: Axis, Avalon, the Rat, The Channel, Bunrattys/local 186, Mercury lounge and Sidewalk Cafe in NYC, The Middle East, Mama Kin on the East Coast. He's played South, Midwest, and West Coast venues like the famous Whisky a Go Go, Coconut Teaszer, & The Garage in LA, The Crowbar in San Diego.

Matt has played some major festivals too! Hempstock, Freedom Fest, Harvest Fest & Locobazooka to name a few. He's also released two full length CD's, "Get Off" and "Secret Songs of Sacred Dances" while he was with the band Headrush and while he was in Arise they released a few 7" Vinyl Records. In December of 2017 Matt released  "Welcome Song" which is the first single off his debut solo album "Garden Of Hedon".

Matt has such a depth and width of experience. He has shared the stage with Marc Ford of The Black Crowes, Mark Bell of the Joe Perry project , Steven Adler of GnR , Ray Manzarek of the Doors, members of the band WASP as well as beloved singer/songwriter Ellis Paul, and many , many others.
Here's a small list of the things Matt has been involved in: 
Clenched Fist & Second Wind (88-90)   
Arise (91-96, toured nationally)   
Headrush (95-2000 toured nationally)   
Touch it 2001-2002 (w/Jesse Kramer & members of Big D and the kids table) 
Labianca 2003-2005. (w/Joe Giglio from VH1's "Rock n Roll Fantasy Camp")
While Matt was in Arise he had the chance to play with bands such as: Hatebreed, Converge, Overcast, Sam Black Church, Eye For an Eye, Slapshot , Dive (pre Dropkick Murphey's), and many others.
   
Over the years Matt has performed a wide range of musical styles. He grew up playing in punk/ hardcore/metal bands and over time his interests evolved and have taken him into many different musical situations. He plays music rooted in rock, psychedelia, blues, americana, jam, etc. but He's a Rock 'n' Roll type of guy so he just calls it Rock 'n' Roll.